Eric Miller is a Chief Petty Officer aboard the USS Nathan James.
Biography
Edit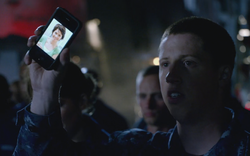 Miller is seen as part of the prayer vigil for sailors' loved ones, after they all learned about the virus and Dr. Rachel Scott's true reason for being on the ship. He tells the group that he is from Iowa and that he is praying that his mother, Barbara Miller, got to safety.
Miller is seen training with the tactical team under Lt. Burk. Burk fusses at him a lot in an effort to get him to toughen up. While spreading the cure in "A More Perfect Union", one of the people Miller spreads the cure to kisses him.
Awards and Decorations
Edit
The following are the medals and service awards seen worn on Miller's uniform in the show. Eric received the Bronze Star for his actions during the Red Flu crisis.("The Scott Effect")