Eric Miller is a (now-medically-retired) Chief Petty Officer aboard the USS Nathan James.
Biography
Edit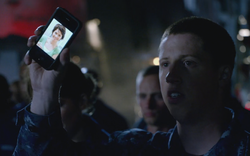 Miller is seen as part of the prayer vigil for sailors' loved ones, after they all learned about the virus and Dr. Rachel Scott's true reason for being on the ship. He tells the group that he is from Iowa and that he is praying that his mother, Barbara Miller, got to safety.
Miller is seen training with the tactical team under Lt. Burk. Burk fusses at him a lot in an effort to get him to toughen up. While spreading the cure in "A More Perfect Union", one of the people Miller spreads the cure to kisses him, which amuses and gladdens O'Connor, Bacon, and Val, who are all nearby.
In between Season 2 and Season 3, Miller is promoted to Gunner's Mate Third Class and then to Gunner's Mate Second Class.
In between Season 3 and Season 4, Miller is promoted to Gunner's Mate First Class.
In the series finale, GMC Miller is one of the few still-living characters with whom Tom had served who appears in his hallucination as he is drowning, after Nathan James sinks ramming Gustavo's Battleship in order to end the war with Gran Colombia. Tom views, and then is part of, an award ceremony for him, which also serves as a change of command ceremony for Nathan James. When President Michener asks Tom if he is ready to be relieved (as commanding officer,) Tom hesitates and wonders aloud who he is passing responsibility onto. After many of the sailors sitting in the audience for the ceremony (who are also Tom's close friends and allies,) stand and declare that they have the watch, Tom is finally able to achieve peace and be able to mentally and emotionally let go of both Nathan James, and of the burdens he has carried around since the plague began, secure in the knowledge that others will always be there.
Ultimately, Tom decides to keep fighting, swim to the surface, and live.
Awards and Decorations
Edit
The following are the medals and service awards seen worn on Miller's uniform in the show. Eric received the Bronze Star for his actions during the Red Flu crisis.("The Scott Effect")
Community content is available under
CC-BY-SA
unless otherwise noted.