This article is about a group, project, or location which also exists outside the The Last Ship universe.
Its portrayal in the show may differ significantly from its Real World counterpart.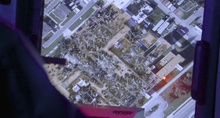 Fort Detrick is a United States Army Medical Command installation located in Frederick, Maryland.
Events of The Last ShipEdit
After Granderson and her men set up their safe zone in the Avocet facility in Baltimore, Fort Detrick was where Amy Granderson planned to set up another safe zone to expand her reach. But Andrew Thorwald and the Baltimore Resistance burnt the medical facility down to try and prevent Granderson from killing more innocent people. Amy later claimed Fort Detrick was her original choice but Thorwald and his "Warlords" burned it down after raiding the facility clean as part of her campaign to discredit Thorwald and his resistance movement.
When the Nathan James returned to the United States it headed to Fort Detrick because it had an infectious disease lab that Dr. Scott could use to mass produce the Cure. The crew of the Nathan James thought that there was even a slight chance that their would be some army personal survivors who could assist them in their mission. While the ship was conducting surveillance using an Air Force spy satellite they discovered that the medical facilities on the fort were completely destroyed. After the fort was destroyed the Nathan James picked up a weak FX radio signal from Baltimore and changed their course to head towards the city.