Admiral Thomas William "Tom" Chandler is the former Chief of Naval Operations and former Commanding Officer of USS Nathan James. During Chandler's command of the USS Nathan James, a virus outbreak killed 80% of the Earth's population. Chandler then made it his ship's mission to find a cure, and in the process, save the world.
Biography
Early life
The son of United States Army veteran Jed Chandler, Tom Chandler was raised in Virginia along with a brother and a sister. As a young man, Tom joined the United States Navy to piss off his father.
At an unknown point in time, he married a woman named Darien. They had a daughter, Ashley, and a son, Sam, and resided in Norfolk, Virginia, where his ship is homeported.
He speaks and reads fluent Russian, and has a book written by Admiral Konstantin Nikolajewitsch Ruskov in his personal collection. He also understands Greek, from his 16 months spent there with his kids.
Tom Chandler is a graduate of the United States Naval Academy in Annapolis, Maryland as per the college degree he has on the wall of his Captain's Quarters (as seen on the episode ("El Toro (Episode)").
As a Lieutenant, junior grade, Chandler served on the USS Pinckney (DDG-91) after completing a tour of duty in Iraq. The Pinckney's captain promoted him to full Lieutenant; years later, Chandler gave his Lieutenant's bars to Lieutenant Alisha Granderson during her promotion ceremony.
By 2013, Chandler held the rank of Commander in the United States Navy and was the Captain of the Arleigh Burke-class guided missile destroyer USS Nathan James (DDG-151). That year, he and his crew took on paleomicrobiologists Dr. Rachel Scott and Dr. Quincy Tophet as the Nathan James conducted operations at the Arctic. However, their mission, unknown to even them, was just a cover for Drs. Scott and Tophet, who were actually collecting samples of a deadly virus that has infected 80 percent of the human population while they have been at sea. Commander Chandler then made it his ship's mission to find a cure and save the world.
Events of The Last Ship
Season 1
With the ship's generators damaged, Chandler advises a plan to generate enough power to reach dry land and save the crew from dehydration. ("We'll Get There")​​​
Chandler leads a team to a Monkey Reserve in Nicaragua to collect Monkeys for Dr. Rachel Scott. They encounter El Toro along the way. ("El Toro (Episode)")
He addresses the dwindling morale aboard the Nathan James and inspires the sailors to continue on with their mission. ("Lockdown")
Chandler rescues Bertrise from the Octopus ship but gets stranded out at sea along with Tex after an ambush by Russians. ("SOS")
Chandler and Tex are held captive by the Russians aboard their ship. He plans his escape when Dr. Rachel Scott visits him in his cell. ("Two Sailors Walk Into a Bar")
With the human trials taking place, Chandler observes the volunteers from afar. After the vaccine begins to fail, he urges Dr. Scott to fix the problems. Dr. Scott manages to create a cure. After the cure had been administered to the volunteers, he tells Danny Green that his girlfriend, Kara Foster, is pregnant. ("Trials")
After arriving in Baltimore with greetings from Amy Granderson, Tom is taken to her headquarters. While he is there, he receives a radio transmission from his father and rushes to his location with a search team. After hostilities with the State Troopers, he orders his men to head back while he heads to Olympia with Carlton Burk. He finds his family but discovers that his wife had died. He then tries to radio contact the Nathan James, however, receives no reply. ("No Place Like Home")
Season 2
With the Nathan James under siege by Granderson's people, CDR Chandler and his few landlocked crewmembers take the fight to Granderson, teaming up with the underground resistance against Granderson led by Andrew Thorwald, a former Baltimore Police Department officer. Together, they were able to stop her, but Thorwald was killed in the attempt, and Granderson chose to commit suicide rather than be arrested by Chandler. ("Unreal City") ("Fight the Ship")
After liberating Baltimore, the ship returns home to Norfolk, where they cure the town and reunite with several teams of Navy pilots and SEALs and scattered remnants of other branches of the U.S. Armed Forces and civilian medical and scientific experts. Although CDR Chandler planned to retire in order to take care of his family, his father convinced him that his place was on the Nathan James. ("It's Not a Rumor")​​​
CDR Chandler and the Nathan James's next opponents are a group of natural Immunes led by former Royal Navy Lieutenant Commander Sean Ramsey, who have taken command of the Astute-class submarine HMS Achilles. The Immunes have also brainwashed the United States Secretary of Housing and Urban Development, Jeffrey Michener, who is the sole surviving member of the Cabinet of the United States & Presidential Line of Succession.
After the defeat of the Immunes and the successful creation of the "contagious cure" by Dr. Scott, the Nathan James is put into drydock in St. Louis, Missouri, where Michener is sworn in as President of the United States by a surviving judge. One of Michener's first inaugural acts as President is to promote CDR Chandler to the position of Chief of Naval Operations. ("A More Perfect Union")
Season 3
As Chief of Naval Operations, Chandler now holding the rank of Captain, having turned down a promotion to Admiral, saying that "[Captain] suits him better". ("The Scott Effect")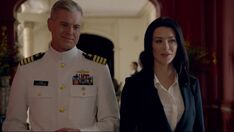 As questions are raised in Asia over fears that that the virus has mutated, President Jeffrey Michener sends him to China to meet with President Peng and the other Asian Leaders. Upon arrival in China, he is reunited with Wolf and taken to the summit. It is there he is finally reunited with an old acquaintance and former flame Sasha Cooper
Last Episode Season 3 edit - Will Fill in the rest of Season 3
As all teams converge on New Orleans & retake The White House, it appeared as though Chandler was finally able to relax, until he gets a call from Shaw's plane. It turns out that Shaw had taken Chandler's kids hostage and demands that he exchanges his life for their safety. Not taking the threat lightly, Chandler vows to kill Shaw should anything happen to his kids.
Upon arriving at Shaw's plane, Chandler boards with Kara & Tex to get the kids. As Tom is reunited with his kids, Ashley reveals that the blood on her neck is Jed's and that he was killed by Shaw. Kara then takes the kids off the plane but Chandler would remain on board as Shaw's prisoner. Tex unknown to Shaw secretly re-boarded the plane and kills Shaw's men, as Sasha from a distance takes out one of the plane's pilots. Tex however is shot in the crossfire and only Chandler & Shaw remain. Shaw proceeds to taunt Chandler over his moral beliefs, how America has crumbled due to the red flu and how he is responsible for why the country is the way it now is. Eventually it gets the better of him and he shoots Shaw in cold blood going against every value he stood for himself.
Season 4
Chandler takes his children to Greece to live a quieter live. He eventually became a fighter for Giorgio Vellek under the name Hercules. He meets up the crew of the Nathan James and is recommissioned as a Captain in the US Navy.
Season 5
By Season 5, Chandler has been promoted to Admiral and was teaching at the United States Naval Academy rather than serving on active duty.
After the cyber attack and the subsequent attack on Mayport Naval Station, ADM Chandler found himself back in the fight against the new Gran Colombia.
In the series finale, after Nathan James is badly damaged by Gustavo's Battleship, Chandler has the crew abandon ship and then sets the Nathan James on a collision course with the battleship. The collision destroys the enemy vessel and sinks the Nathan James. Chandler enters a dream state where he is greeted by everyone he has lost along the way, particularly by Tex Nolan who urges him to live on. Awakening underwater, Chandler witnesses the Nathan James sinking into the depths of the ocean before making the decision to live, surfacing and being rescued by his friends.
Personality
As a military man and an officer of the United States Armed Forces, Tom Chandler is a man of authority, courage, and honor. Chandler is committed to the safety and well-being of the crew of the Nathan James and with the lives of others as well. He takes his role as Commanding Officer (CO) seriously and refuses to abuse his power in any way and is fair to everyone on board the ship. An example of this is when he ordered the ship to make passage to Guantanamo Bay instead of docking back home; he refused to stop at Norfolk on account of the limited supply of hazmats and the possible dangers awaiting them. Chandler has a very strong sense of integrity and is extremely stubborn, for example, he continued to follow the accords of the Geneva Convention (stating only his name, rank, and serial number) while being held as a prisoner of Fleet Admiral Konstantin Ruskov and refusing his offer in a lucrative partnership.
Chandler is also a dedicated family man as seen with his prioritization with the well-being of his children.
Abilities
Hand-to-Hand Combatant: As a member of the US Navy Chandler is a trained and experienced combatant.
Marksmanship: Chandler is trained and skilled with the use of firearms.
Master Tactician/Strategist: Chandler is a clever and exceptional military tactician, often leading to success in what others see as impossible situations,
Awards and Decorations
The following are the medals and service awards seen worn on Chandler's uniform in the show. Chandler received the Silver Star and the Purple Heart for his actions during the Red Flu crisis. ("The Scott Effect")
Campaign and service medals
National Defense Service Medal, w/1 bronze service star (2nd award)

Global War on Terrorism Expeditionary Medal

Global War on Terrorism Service Medal
Service and training awards

Sea Service Deployment Ribbon, w/4 bronze service stars (5th award)
Marksmanship awards
Navy Expert Rifleman Medal
Navy Expert Pistol Shot Medal
Other accoutrements
Surface Warfare insignia
Command at Sea insignia (in the post-completion position)
Trivia
He joined the Navy to piss off his father, who was in the Army.
He keeps a bracelet given to him by his daughter in his front pocket.
He carries a Beretta M9 in 9×19 as his personal sidearm; he also frequently uses the M4A1 carbine in 5.56×45mm. Other weapons he has used over the course of the series include (but are not limited to): a Heckler & Koch HK416 carbine, Sig Sauer P226 pistol, Heckler & Koch MP5SD3, a Beretta M9A3, and a FIM-43 Redeye rocket launcher.
Over the course of the series, CAPT Chandler has killed numerous times in the line of duty.
He can speak English, Italian ("Phase Six"), Russian.
Gallery